Teams that play together stay together.



Experience
Double Jump Events will curate the best gaming experience for your event based on over 15 years of running gaming events and expos!



Choice
With over 4000 games across 30+ unique systems, we can support any event. In addition to traditional games, we also provide Karaoke, Dance, Bongo, Networked, Japanese games, Mini-Arcades, and more!



Convenience
Double Jump GameGuides will deliver, set up, and provide on-site support to ensure the success of your event.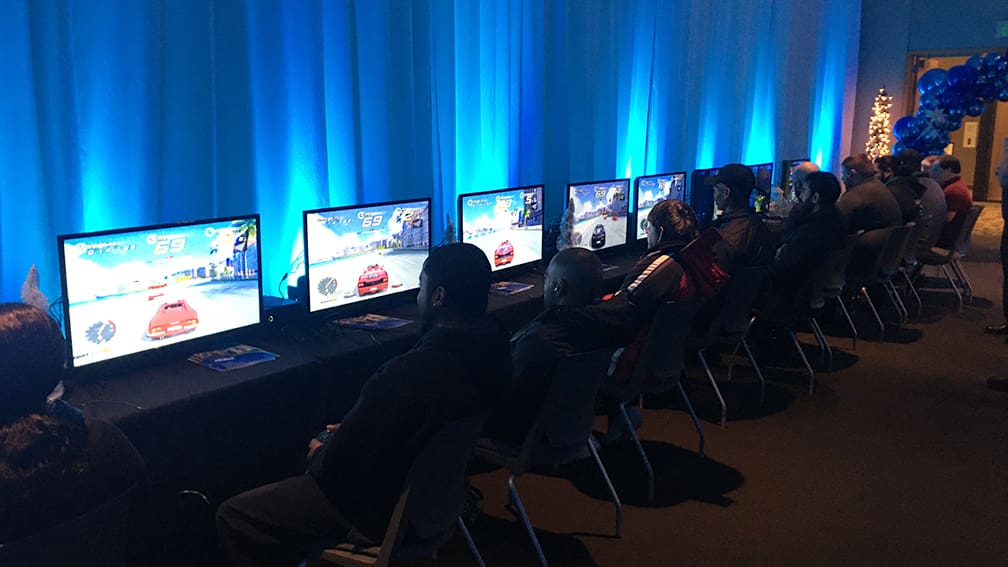 Double Jump Events has organized shows like the Seattle and
Portland Retro Gaming Expos for over 15 years. We have curated the best
gaming experiences for a group setting and will upgrade your milestone celebration, holiday party, team-building event, and more. We specialize
in retro, import games, and stock hundreds of unique peripherals to customize an unforgettable event for your specific needs.
Pixel Nostalgia
Warp back to your childhood with the Double Jump Nostalgia collection! We'll set up 10 GameStations, featuring classics such as Super Mario Bros, GoldenEye, Street Fighter 2, Mario Kart, Halo, and Sonic the Hedgehog. Double Jump will curate the ultimate retro gaming experience to enjoy with your friends and coworkers!
Steel Battalion Team Battle
Jump into the seat of a Vertical Tank and get prepared for an immersive battle for team supremacy! Pilots are assigned a Vertical Tank, equipped with a dual-stick, 42-button controller and foot pedals.This one-of-a-kind team building experience will test your communication, resolve, prioritization and ability to work as a cohesive team under pressure.
Mario Kart: Double Dash!!
Teamwork makes the dream work! Choose from your favorite Mario characters to compete in two-seater racing karts! One player handles the wheel, the other hands out damage to competing karts. Up to 16-players supported in this fan favorite!